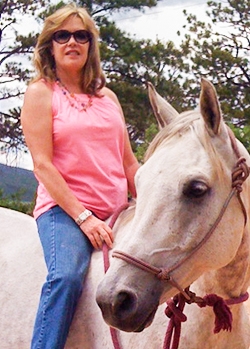 Diane Chaffee
President and Founder
I'm a breast cancer survivor, diagnosed in 2007. As a healthcare provider, I understood the disease and the healthcare system. I even had a wonderful support team. However, through the process, I realized there are so many women who don't. And even though I had people in my life to support me, I wanted to connect to others with breast cancer, others who were experiencing what I was experiencing. Most importantly, I wanted to connect outside of the normal hospital arena. One of my providers knew how deeply impacted I was and how much better I felt every time I went and spent time with my horse, Skye, and suggested I find an Equine Facilitated Learning program for breast cancer patients; however, I was unable to find one. " It was because of my experience with Skye, that I saw the healing power of horses! At that moment, a seed was planted in my mind and in my heart to one day provide an equine program for women with breast cancer. That way, women, like myself, would have the opportunity to experience the magic of community and the wonder of horses and how both truly help us to learn, grow and heal.
Kerry Borcherding, MA, LPC, SEP, EAP
Vice President and Program Director
No matter the obstacles I have faced, the pain endured, it has been my intimate relationship to horses and open spaces that have continually helped me remember my own strengths, the preciousness of life, and a deep sense of belonging to this inexplicable world. It is because of this that I am passionate about bringing horses and humans into relationship.
I complimented my personal life lessons with a Masters in Counseling Psychology, a Certificate in Equine Assisted Psychotherapy and a Certificate in Somatic Experiencing.
During these programs, I am a guide to help women access their own strengths and resilience.  By entering into a relationship with a horse, the present moment, and myself, it is possible to quiet built up defenses, experience authenticity beyond thought, and tap into the precious wisdom locked within.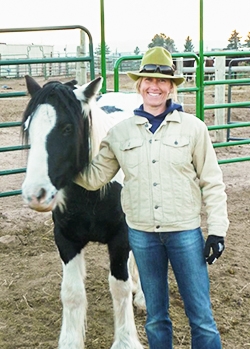 I have a MA and am Registered Psychotherapist, specializing in Gestalt and Equine Assisted Psychotherapy. I also have many years of experience working as a Shamanic practitioner leading spiritual retreats and women's empowerment groups. I feel that living in a fast-paced, stressful, competitive, and rapidly changing world, we are deeply lacking in two types of connection: one being the connection to our own hearts, and the other, our connection to our foundation in nature. My passion lies in helping others re-connect with nature and to themselves in a way that helps bring meaning, depth and balance into one's life. I believe that one of the most powerful ways to connect to self and nature is through working with and being in relationship with horses.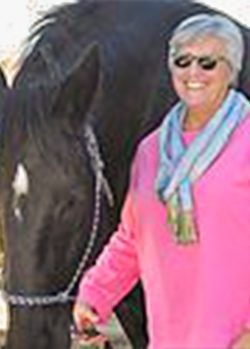 Michelle Fillios Cox, MSW, LCSW
As a licensed clinical social worker, I worked in oncology for many years, helping people to "find their way" and cope with living with cancer. What they taught me, was that by being open to giving and receiving support, they were able to access a compassion for self and the strengths needed to take whatever next step they were facing.
Although I wasn't able to connect with horses on a regular basis until adulthood, I was aware of the call to them from an early age. Horses now have a significant place in my life – both personally and professionally. And, I have experienced and witnessed the learning, healing and growth they so willingly facilitate and that is possible through relationship with them.
I am excited to participate in the opportunity for women with breast cancer to connect and establish relationship not only with horses, but also with a community who is open to giving and receiving support. It is an honor to come along side of each individual, to hold sacred space for them, and to support them as they embark on a day of reconnection with self, discovery and healing with horses and others.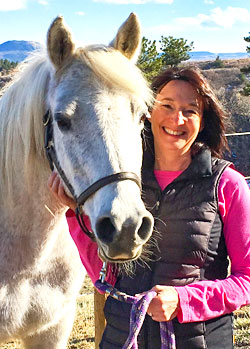 Erin Keefe-Feinner,
Reiki Master, Animal Communicator
As a Usui Reiki Master and Practitioner for people and animals, as well as an Animal Communicator, I have experienced profound joy and comfort while working with horses. In my work with the horses, I begin with the intention to assist them, but I always notice this feeling of love coming from them right back to me, a symbiotic relationship of healing.
Horses have an amazing ability to tune into us and know when we are not feeling our best, whether emotionally or physically. They truly desire to support us to be our best selves, to let go of pain and to learn how to live as they do, in the moment.
I was drawn to Hope Held by a Horse due to my work with some of the program's horses. While witnessing a program I noticed how compassionate the horses were and how drawn they were to the participants. The horses wanted to help and intuitively knew how to help.
I perform Reiki on each horse prior to the weekend programs. During the session the horse relaxes physically and emotionally, which allows them to fully offer their gift of healing. It truly is a magical and healing experience.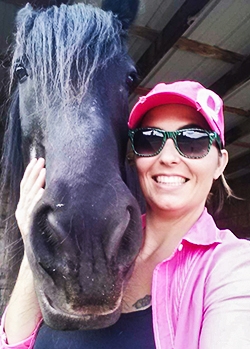 As an intuitive and ordained minister, I joined Hope Held by a Horse with my gift for energy healing. I have been in training for over two years in intuitive and energy healing development. I am passionate about horses and recognize a common bond in their ability to help people heal. I actively incorporate the three elements – energy, intuition and horses – into my work and the combination of these three fields allows me to connect on a number of different levels with those I work with.
I am also a Reiki 1 practitioner. During my undergraduate work, I rode on the Fresno State Equestrian Team, taking first place at the regional horse show. My love of nature has landed me at the base of Pikes Peak in beautiful Colorado Springs, which provides me opportunities to compete in adventure races, play volleyball and breathe fresh mountain air on trail rides.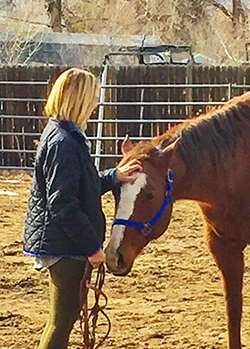 Jacque Maben, MA, LPC, NCC, EAP
I am a Licensed Professional Counselor and certified as a Gestalt Equine Psychotherapist. In addition, I have a certification in Synergetic Play Therapy. My life's passion has always involved horses. As a young person, my days were spent with my soul horse, Hiawatha, who taught me the healing powers of being in relationship. I have spent my adult life in the helping professions of teaching and counseling, incorporating horses and other animals into my practice whenever possible. Horses have proven to me time and again that connection to self and with others is the source from which all growth and healing occurs.
As a guide, it is a privilege to be a part of this incredible organization, Hope Held by a Horse. I am honored each time I work with the resilient community of women breast cancer fighters and survivors. Not only do I get to facilitate a connection with horses, I also have the opportunity to deepen into my own authentic self and continue to learn about the power of community.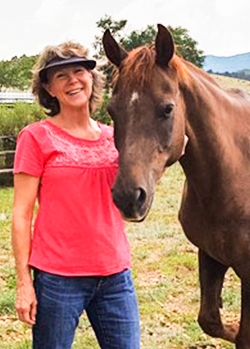 I am a certified Equine Gestalt Coaching Method, EGCM, practitioner. I work with my equine partner and soul mate, Dusty, at Majestic Pathways in the foothills west of Loveland, Colorado. I have been supporting the Hope Held by a Horse program since early 2017. As a horse owner and a cancer survivor myself, I specialize in working with cancer patients, survivors and caregivers in their healing journey. I work with the Hope Held by a Horse team and their equine partners to bring out the keen energy sense of the horse to provide healing and guidance to women who have been touched by breast cancer.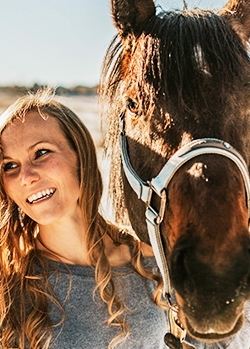 Rebecca Frank, MA, LPC, NCC, EAP
I have had the honor of working with Hope Held by a Horse since May of 2018. I have been so grateful to be a part of such an amazing program with such a powerful vision. I love being able to work with each person that comes through the program and watch how the horses transform and touch their lives. Horses have such an amazing and beautiful way of connecting and communicating with each person that comes into contact with them. The healing that can happen in a single day because of this program is beyond words.
I am a Licensed Professional Counselor in Littleton and work within my private practice, Courage to Connect Counseling. I work with people who have experienced trauma throughout their lifetime, and I have the privilege to support people as they heal past their pain and move into the present and actively work toward the things they want in life. I am an animal and equine-assisted therapist and have the pleasure of working alongside my two therapy dogs, Lula and Yogi. I also get to work with my three horses: Montana, Skyy, and Shiloh. Each of my co-therapists (dogs and horses) has something unique to offer to each person, and they love being able to work with people who come to them for healing.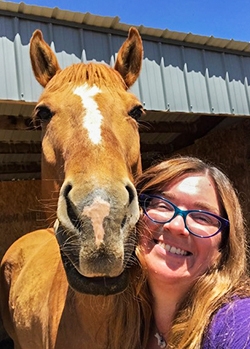 Courtney McCall, MA, LPC, EAP/EAL
I am a psychotherapist practicing in the Boulder, Colorado area. I graduated magna cum laude from Regis University with a Master's Degree in Clinical Mental Health Counseling and am a certified Equine-Assisted Psychotherapy/Equine-Assisted Learning Facilitator. I have additional training in EMDR, Play Therapy and Family Therapy.
I believe that healing occurs holistically, through working with the triad of mind, body and spirit. I am particularly drawn to horses because I believe that horses speak to us in the language of the heart and spirit and mirror our true selves in an honest and present manner. Horses teach us how to be in the here and now and how to expand our awareness of our environments, our hopes and our truths, and they are always willing to offer genuine and honest feedback. In my spare time, I enjoy spending time with my partner, riding my two rescue horses, practicing archery, singing, hiking, kayaking, making art and snuggling with my two dogs, cat and pet duck.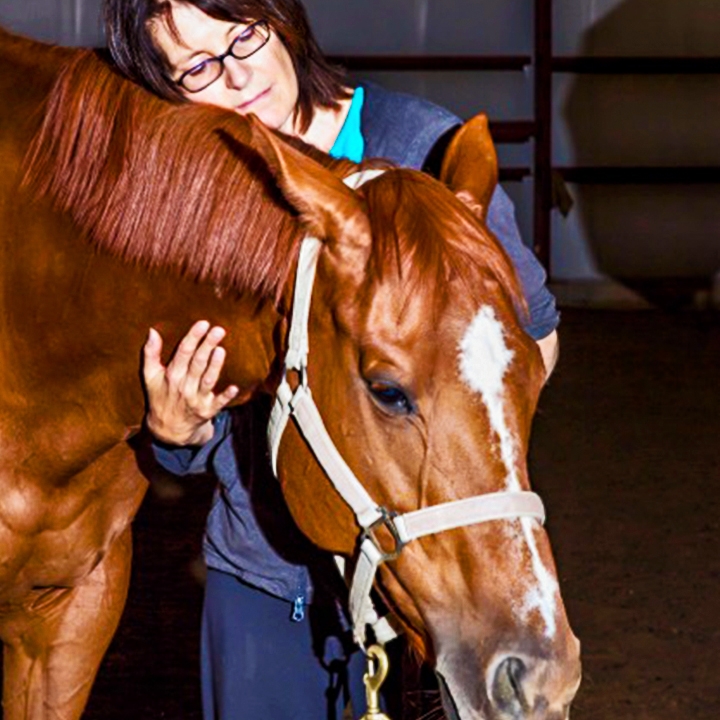 You were all so warm and compassionate and gently pushed me out of my comfort zone just enough, but not too much. It was a pleasure to spend the day with all of you and your equine friends.

–

Jen G.
HOPE HELD BY A HORSE
Phone: 720-635-3223
Email : info@hopeheldbyahorse.org
Rockin Ridge Ranch
3575 N State Highway 67
Sedalia, CO 80135
Happy Dog Ranch
7811 W Titan Rd
Littleton, CO 80125