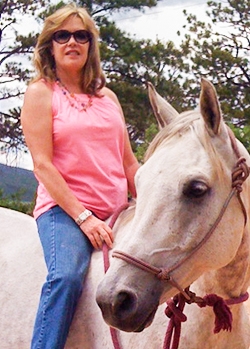 Diane Chaffee
President and Founder
I'm a breast cancer survivor, diagnosed in 2007. As a healthcare provider, I understood the disease and the healthcare system. I even had a wonderful support team. However, through the process, I realized there are so many women who don't. And even though I had people in my life to support me, I wanted to connect to others with breast cancer, others who were experiencing what I was experiencing. Most importantly, I wanted to connect outside of the normal hospital arena. One of my providers knew how deeply impacted I was and how much better I felt every time I went and spent time with my horse, Skye, and suggested I find an Equine Facilitated Learning program for breast cancer patients; however, I was unable to find one. " It was because of my experience with Skye, that I saw the healing power of horses! At that moment, a seed was planted in my mind and in my heart to one day provide an equine program for women with breast cancer. That way, women, like myself, would have the opportunity to experience the magic of community and the wonder of horses and how both truly help us to learn, grow and heal.
Kerry Borcherding
Vice President and Program Director
I met Diane at a fundraiser, and after we spoke, I knew why I was meant to be there. Diane shared with me her vision of creating an Equine Facilitated Learning Program for women with breast cancer, and I immediately knew that I meant to join her vision.
I have had the honor of being with HHH since its inception, and I have seen and experienced the immense impact this organization has had on its participants.
I know from own life experience that no matter the obstacles I have faced, the pain endured, it has been my intimate relationship to horses and open spaces that have continually helped me remember my own strengths, the preciousness of life, and a deep sense of belonging to this inexplicable world. It is because of this that I am passionate about bringing horses and humans into relationship.
During these programs, I am a guide to help women access their own strengths and resilience. By entering into a relationship with a horse in the present moment, it is possible to quiet built up defenses, experience authenticity beyond thought, and tap into the precious wisdom locked within.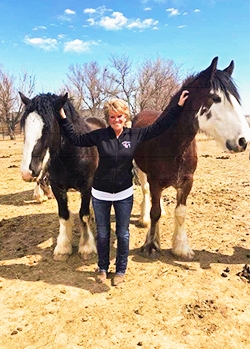 Suzanne Hagmaier
Treasurer
I'm a two-time breast cancer survivor, diagnosed in 2008 & 2011. As I finished my chemo treatments and began my radiation, I decided I never wanted anyone to fight this disease alone. I began sitting with other women during their chemo treatments, answering their questions, hopefully removing some fear of the unknown. It became very therapeutic for me to help others navigate through their journey and find their new normal. I've met many brave, amazing women whom I have built lifelong friendships.
I had the opportunity to participate in the Hope Held by a Horse program with some of these women, and the experience completely changed my life and provided me a clear path. I went back to school to receive my Profit, Non-Profit Management Certificate, completed a triathlon and now have 5 horses of my own. I'm so blessed to be apart of this incredible organization. Everything happens for a reason, and I firmly believe I am right where I'm supposed to be, doing what I love!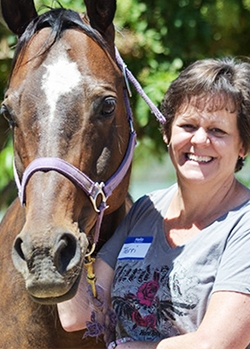 I'm a breast cancer survivor, diagnosed in 2007.  After undergoing a bilateral mastectomy with reconstruction, chemo and radiation, I was looking for ways to connect with fellow survivors. I was told about Hope Held by a Horse, a program for breast cancer patients. I was not familiar with horses but have always loved them. I was fortunate enough to participate in the program and absolutely fell in love with the horses and the program. I am blessed to be a part of such an amazing organization and can't wait to help my fellow survivors.
The Hope Held By a Horse program changed my life! I was amazed that through this non-threatening and supportive environment, a horse could help me open up and receive what I needed to heal the emotional wounds of having breast cancer. I was very afraid of horses before going to the program, and I learned how to trust and allow my horse to protect me and receive his love – he even gave me a hug! So POWERFUL!!! Because of this enlightening experience, I decided to be a board member for Hope Held by a Horse. As a 2-time survivor of breast cancer, I received the most incredible therapy from the Hope Held by a Horse program. I want to be involved in helping other breast cancer survivors heal through the power of a loving relationship with a horse!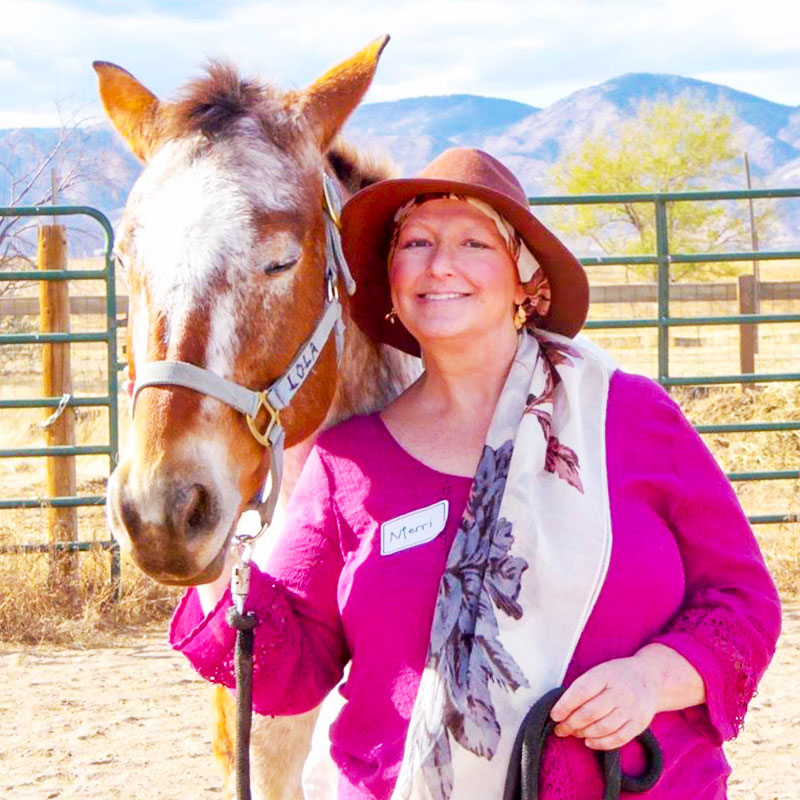 I highly recommend this program! It's something I wouldn't have had the opportunity to experience if I hadn't gone through breast cancer, so I've learned to embrace the gifts that the diagnoses brought with it. The horses are intuitive and each have a lesson to share. It was such a special day, leaving me wanting to come back for more.

– Merri T.
HOPE HELD BY A HORSE
Phone: 720-635-3223
Email : info@hopeheldbyahorse.org
Rockin Ridge Ranch
3575 N State Highway 67
Sedalia, CO 80135
Happy Dog Ranch
7811 W Titan Rd
Littleton, CO 80125