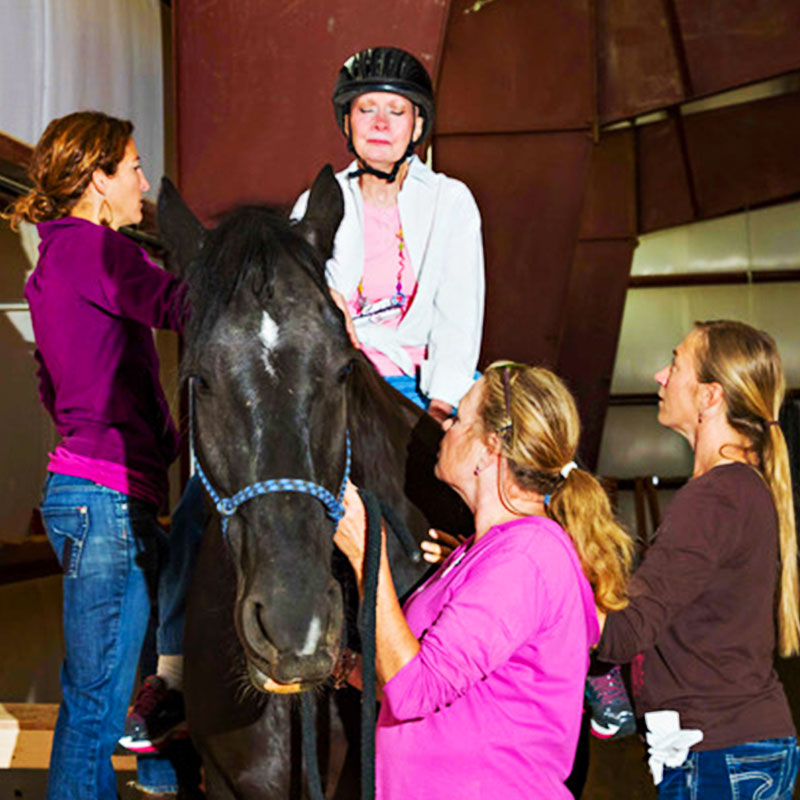 "The number one question that women are asked when they are diagnosed with breast cancer is, 'what can I do /how can I help?' A great way to support a survivor is by giving to an organization that understands and has the specialists available to help with the emotional healing."

– Lisa Lambright – Participant of HHH
Donations allow us to continue to provide FREE support, through the aid of our therapy horses and facilitators, to women with breast cancer.
There are multiple ways to donate and support us!
Donate $5000 for 1 program for 6 survivors
Donate $1800 towards ongoing training for the horses
Donate $835 to sponsor one woman in the program
Donate $200 to pay for meals during a program
Donate $50 to help sustain the program
Click the button below to make a one-time donation.
Your support matters, and an Evergreen gift is the best way to give—providing steady support for Hope Held by a Horse. For a monthly Evergreen gift, you'll set up an automatic charge to your credit card or, to eliminate credit card fees, we can set it up directly from your bank account. Only a few dollars a month will help to pay for a healthy dinner and/or lunch for our participants or support a women with breast cancer to go through our program.
Suggested monthly gifts are $5, $10, $15, and $20.
To schedule a monthly amount
Thank you! Your monthly gift will be ongoing and provide steady support to the women who need you.
Join our amazing team!
We need support in the following areas:
Fundraising support

Helping at our booth during special events

Teams for the Komen Walk, Making Strides, Komen Snowshoe for the Cure, Tri for the Cure, etc

Administrative data input

Grant research

Sponsors

Hosts for wine tastings
Contact us for more information
Volunteers make our programs possible!
Shop at Amazon Smile and 0.5% of your purchase will go to Hope Held by a Horse if you designate a contribution to us!
And don't forget to designate Hope Held by a Horse as your preferred charity!
We are registered on Brevity and Cybergrants
HOPE HELD BY A HORSE
Phone: 720-635-3223
Email : info@hopeheldbyahorse.org
Rockin Ridge Ranch
3575 N State Highway 67
Sedalia, CO 80135
Happy Dog Ranch
7811 W Titan Rd
Littleton, CO 80125